Behavior, not guru, should determine who can attend
by Rama Kesava das
Posted January 29, 2004
My respects go to Prabupada dasa Adhikari who quite succintly states the stance to be taken when disciples of one guru abuse the hospitality of another. However, I believe he misses the point of my article. I am not asking the GBC to legislate on guru-politics and disciple-snatching, rather I am asking this... (Click here for the full article)



Last Chance to Register or Preregister for MIHE Courses Online
by Janmastami das
Posted January 28, 2004
Dear Devotees,
Please accept my humble obeisances. All glories to Srila Prabhupada.
As you know, we are expecting more devotees to attend this year's Gaura Purnima Festival than have attended any previous festival anywhere in ISKCON's history. In spite of the large turnout, you will be able to take shelter in peaceful MIHE classrooms where senior devotees will offer 27 well-prepared and systematically designed courses that will help you penetrate deeply into Srila Prabhupada's teachings, mercy, mood, and mission. (Click here for the full article)



Humility and just criticism
by Hari das
Posted January 25, 2004
My dandavats to all the Vaisnava devotees of the Lord, and to all those that ever were and ever will be.
Because of what they have done for this wretched conditioned soul, I also put special emphasis on His Divine Grace Srila Prabhupada and Srila Narayana Maharaja. Two years ago I couldn't have uttered the name of Narayana Maharaja, in reverence, on Chakra. Today I can glorify any Vaisnava devotee and get it published on Chakra. (Click here for the full article)



New CD release
by Rama Raghava das
Posted January 23, 2004
I am very excited to tell you about a recently released CD by some family friends of ours. The title is Gopinatha and is by Seva Radhika Devi Dasi who lives in Queens, NY. It is a short CD, and therefore inexpensive, and features a uniquely beautiful rendition of Gopinath, and a Hare Krishna Kirtan. (Click here for the full article)



Diary of a New Mayapura Vasi
Posted January 22, 2004
Hare Krsna. PAMHO. All glories to Srila Prabhupada.
I have been reading so many nice articles coming from diaries of travelling preachers, padayatris, Prabhupada men and so following in their footsteps I would like to the same. The reason for this diary is because I feel that here in New Mayapura we are completely left on our own and that, in my opinion as well as that of other devotees here and in other parts of France, the local GBC is not taking full responsability for what is happening. This is diary is not to point a finger at anyone in particular. Its just that I sometimes wonder if the devotees who are running Iskcon actually know what is going on here. So many times things have happened that made me wonder, "What would the GBC say if they knew that this happened, what would devotees in general think if they knew about this thing" etc. (Click here for the full article)



February sees first Phoenix Rathayatra
by Radha Pran das
Posted January 20, 2004

[Ratha carts are made ready for first Phoenix Rathayatra.]
On behalf of the presiding Deities, Sri Sri Radha Madhava-Hari and Sri Nathji at the ISKCON Phoenix Mandir, I would like to invite everyone to our inaugural ISKCON Jagannath Rathayatra to be held Saturday, February 14, 2004. (Click here for the full article)



HKTV new address
by Pandava Vijaya das
Posted January 18, 2004
Due to our server being down Hare Krishna TV/Dangerous TV has a new web address: http://www.geocities.com/pandava32000/; same email address.
Sorry for the inconvenience.
your servant,
Pandava Vijaya dasa
(Click here for the full article)



Mayapur Festival Minimarket and Promotional Pavllion
by Bhakti Purusottama Swami
Posted January 17, 2004
We expect thousands of devotees to participate in the coming Gaura Purnima festival and installation of Sri-Sri Panca-Tattva. Like every year, there will be a Mini-Market where devotees can sell books and devotional paraphernalia. This market will be open for 18 days, from February 19 to March 7, 2004. Space is limited, and due to the large number of devotees expected, you should write to Purananada prabhu (purananda.jps@pamho.net) now to reserve a stall or table for yourself or your yatra. (Click here for the full article)



What's Inside The Jan/Feb 2004 Issue of Back To Godhead Magazine
by Nagaraja das
Posted January 15, 2004
The year 2004 marks the sixtieth anniversary of Back to Godhead. When His Divine Grace A. C. Bhaktivedanta Swami Prabhupada launched the magazine in India, it was his first major effort toward fulfilling the mission he had received from his guru: to spread the teachings of Lord Krishna to the English-speaking world. Working alone, Prabhupada could publish only intermittently in India, but after 1966, the magazine came out regularly, thanks to the help of his disciples. (Click here for the full article)



Give peace Another Chance
by Aprakrta das
Posted January 14, 2004
John Lennon's popular song has so impregnated our collective subconscious that we instantly recognise the first few notes of "Give Peace A Chance". Recently, here at our Rue Duluth centre in Montreal, devotees all sang the famous peace anthem during the viewing of 'Krishna Experience', Philippe Auliac's excellent documentary. (Click here for the full article)



Considering Srila Prabhupada's Mercy
by Babhru das
Posted January 13, 2004
About 500 years ago, Lord Krishna personally appeared as Sri Chaitanya Mahaprabhu in the place of the avatar for the age of Kali. Lord Chaitanya had two purposes for coming: to experience first-hand the bliss of serving Krishna and to spread pure love for Krishna, which is very rare. Writing about Lord Chaitanya's plan for making His mercy widely available, Srila Krishna das Kaviraja Gosvami says, "sri-krishna-chaitanya-daya karaha vichara, vichara karile chitte pabe chamatkara: If you are indeed interested in logic and argument, kindly apply it to the mercy of Sri Chaitanya Mahaprabhu. If you do so, you will find it to be strikingly wonderful." (Click here for the full article)



Guru is Self-Effulgent
by Niscala d.d.
Posted January 12, 2004
A very interesting exchange has taken place between Subhadra Mayi and Rasi Priya Prabhus in which the essence of guru tattva and our possible misapplication of it, is being brought to the forefront. (Click here for the full article)



Register now for Bhaktisastri and Bhaktivaibhava courses
by Janmastami das
Posted January 10, 2004
[Mayapura Institute of Higher Education students prepare a Bhakti-sastri group presentation.]
Sri Caitanya Bhagavata declares that when a devotee studies in Navadvipa Dhama, then vidya-rasa, the taste for learning, awakens within his heart. As ISKCON grows, always hopeful of achieving the footing of a genuinely brahminical culture, the Mayapura Institute of Higher Education offers its contribution in the very place where Nimai Pandita exhibited vidya-rasa, as Sri Dvija-mani, the jewel of the twice-born. True education is based upon brahminical culture and vidya-rasa.
(Click here for the full article)
Holy Salagram Silas
by Ravi Shira
Posted January 8, 2004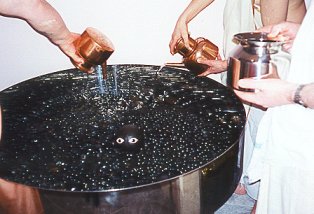 [ISKCON Scotland, Karuna Bhavan - the installation of Srimati Vrinda devi and the bathing of over 12,000 Salagram Silas. See here for more.]
I visited the Karuna Bhavana temple in Scotland recently and was pleased to see that it is a very nice temple with beautiful deities. The Srimati Vrinda Devi deity is very special. The view outside of the Scottish Highlands is wonderful, as it is nature at its best. The highlight is the vast amount of Salagram Silas . The Salagram Silas are very very special. It is amazing to see over 12,000 Salagram Silas. (Click here for the full article)



Mayapur festival news
by Bhakti Purusottama Swami
Posted January 7, 2004
More Accommodation for the Mayapur Festival!!
HH Bhakti Purusottama Maharaja, December 29, 2003 :
We hear that devotees are afraid to come to the Gaura Purnima Festival because so many devotees are expected to attend - the place overcrowded, no accommodation available, and what about sanitary facilities? (Click here for the full article)




OCHS Lectures and Seminars
by Saunaka Rsi das
Posted January 28, 2004
Hilary Term (Jan - Mar. 2004)
Lectures
Relating to the 'Other': Hindu and Christian Perspectives
Presented by the Centre for Hindu Studies & the Centre for Christianity & Culture, Regent's Park College (Click here for the full article)



In defence of Chakra
by Subhadra-mayi dasi
Posted January 25, 2004
Jai Nitai das says that "slamming rhetoric" was not the mission of Chaitanya Mahaprabhu and Srila Prabhupada. I do not recall reading anywhere that, if someone was misusing the philosophy to suit their own agendas, Lord Chaitanya and Prabhupada wouldn't 'slam, bam and touchdown' them. They were pretty intolerant of these things. (Click here for the full article)



Old pictures of Bhaktivinoda Thakura's house
by Padmalocana das
Posted January 23, 2004
I am doing recearch and compiling something on Bhaktivinoda Thakura's place in Godruma and need to get some old pictures of the place - any old photos of the house and area around (if possible). I am looking for older pictures - 1980 and earlier. Could you kindly help me with this. If you do not have photos, may be you can suggest some older videos, where I can find what I am looking for?
Hope this meets you in the best of all.
Hare Krishna!
your servant,
Padmalochan das
Padmalochan.ACBSP@pamho.net



Sectarian and non-sectarian by nature
by Prabhupada dasa Adhikari
Posted January 20, 2004
The underlying nature of every human being is the same: All humans are subject to the influence of their three modes of nature. They must submit to the laws of nature in the form of gravity, light, atmosphere and the related effects upon the body. All humans must communicate with some form of language, writing, music and dance. However, from this foundation of oneness, we see an infinite display of difference. Language is one -- all humans have language. Language is different -- humans speak in thousands of languages and dialects. The human form is one -- all humans have head, two arms, torso and two legs. The human form is different - no two human bodies are the same and there are hundreds of ethnic and so-called "racial" varieties. (Click here for the full article)



Book offers insight to ISKCON spiritual heritage
Book Review by Babhru das
Posted January 18, 2004
Sri Guru-parampara: Bhaktisiddhanta Saraswati Thakura, Heir to the Esoteric Life of Kedarnatha Bhaktivinoda, by Swami B. V. Tripurari
In his introduction to Sri Guru-parampara, Swami B. V. Tripurari says the essay's purpose is "to examine the sensitive issue of Bhaktisiddhanta Saraswati Thakura's critique of prevalent practices in the [Gaudiya Vaisnava] sampradaya and his analysis of the modalities of raganuga sadhana." Tripurari Maharaja then clearly, directly, and systematically confronts criticisms of the line of Gaudiya Vaishnavism that issues from Srila Bhaktivinoda Thakura and Srila Bhaktisiddhanta Saraswati, and in so doing demonstrates its authenticity without the high degree of contentiousness that often attends this controversy. (Click here for the full article)



Vyasa Puja offerings
by Dravida das
Posted January 17, 2004
This year (2004) the deadline for submitting homages for Srila Prabhupada's Vyasa-Puja book is April 15. Below are the guidelines. Thank you. (Click here for the full article)



Sucirani Mataji passes away
by Ananda Tirtha das
Reposted January 16, 2004

[Sucirani surrounded by devotees shortly before her auspicious passing.]
Dear Devotees,
Please accept my humble obeisances. All glories to Srila Prabhupada.
This is just a short letter note to inform you that HG Sucirani Dasi, of Perth, Australia, left her body a few hours ago, on the evening of January 5. She had been diagnosed with cancer exactly one year ago, and although it was kept in check for the first six months or so, thereafter her condition deteriorated rapidly. (Click here for the full article)



New Year celebration with holy name
by Damana Krsna das
Posted January 14, 2004
(Click here for the full article)



Aren't we non-sectarian?
by Rama Kesava das
Posted January 13, 2004
It was with somewhat bittersweet poignance that I read Gauripriya Prabhu's VNN Editorial about her difficulties with the Boise ISKCON temple. I, too, have first hand experience of this type of situation. I live near Edinburgh, Scotland (UK). The only temple here is ISKCON Karuna Bhavan - after that it is a two hundred mile trek south to ISKCON Newcastle, or, failing that, about 500 miles south to the Gaudiya Matha temple in Birmingham. (Click here for the full article)



"Realist guru" or "superguru"?
by Dhyana-kunda dasi
Posted January 12, 2004
Gordon MacDonald, a writer from within the Christian tradition, has created a model for analyzing the various stages of the relation between spiritual teacher and disciple. His model includes obligations the teacher and the disciple have toward each other at every stage. MacDonald discusses also the dangers associated with each stage. (Click here for the full article)



Ambarisa Takes Issue with VNN Posting
by Ambarisa dasa
Posted January 10, 2004
There has recently been published on VNN a letter that was supposedly written recently by me pertaining to the alleged poisoning of Srila Prabhupada. This letter was written several years ago in support, at that time, of an attempt of a group of devotees to get at the truth of this issue, following a less than conclusive investigation by Balavanta prabhu. Since that time, my thinking on this issue has changed, and I have distanced myself from any investigation and investigators.I am way too busy trying to carry out the orders which Srila Prabhupada personally gave to me to spend my energy with this, nor would I want to. It is hard for me to fathom why this letter would surface at this late date. To publish this letter as if it were recently written is disingenuous, dishonest and personally offensive. I was not asked before it was published, nor were the facts concerning its origin disclosed. I have asked VNN to publish this response, to disperse any further hearsay, and put an end to any more speculation concerning my standpoint. I know people who are adamant about their conclusions on both sides of this issue. I have chosen to recuse myself. I do not think Srila Prabhupada would want to see his disciples entangled in controversy to the detriment of his mission. Certainly this is not the example he set. Thank you for considering my position.



Who has scheduled regular Sankirtana?
by Radha Govinda das
(Montreal, Canada)
Posted January 9, 2004
I am writing to confess that I feel myself presently in the throes of "dog consciousness," as opposed to God (Krsna) consciousness; therefore, I am suffering greatly. (Click here for the full article)



An effective Guru empowers the analytical disciple
by Sridhar Raman
Posted January 8, 2004
Rasi Priya dasi implicitly suggests that, if we were to evaluate the guru-disciple relationship, it might become "just like profit and loss in a business world." (Click here for the full article)



Quotes and stories about the London Yatra
by Sri Rangavati dasi
Posted January 7, 2004
Were you serving in London at Bury Place or the early days at Soho Street, in the late 60's and early 70's? Do you have any stories or realisations that you'd like to share? If yes, then I'd like to hear from you. (Click here for the full article)



New Srila Sridhara deva Goswami forum
by Mahesvara das
Posted January 5, 2004
We are pleased to announce a new e-mail group dedicated to the words of Srila Bhakti Raksak Sridhara deva Gosvami Maharaja.
The forum, intended to share his lectures, books and pastimes, is open to devotees from all branches of the Sri Chaitanya tree. It is not a place for debate and 'political' discussion but for devotees and wellwishers to embrace the message of divine love and share the poetic Hari-katha of Srila Maharaj, who was dubbed the "Guardian of Devotion" by Srila Bhaktisiddhanta Saraswati Thakur. (Click here for the full article)



Padayatra India
by Ekanath das
Posted January 5, 2004
ISKCON'S Padayatra India is presently in northern India. During the first few months of 2004 they will be visiting such places as Kurukshetra, Haridwar, Badrinath, Kedarnath, Gangotri and Yamunotri.
If you would like more information on how to take part, please contact me: ekanath.lok@pamho.net
Your servant,
Ekanath dasa



Kurma has new way to help cooks
submitted by Mandala Publishing
Posted January 3, 2004
"Vegi Cards Recipes from Around the World" -- Drawn from a series of popular cookbooks down under, Australia-based Kurma das presents practical versions of the world's greatest vegetarian cuisine in 52 durable large-format full-colour recipe cards. Step-by-step instructions and brilliant photographs help you be all you can be in the kitchen. These sumptuous French, Latin American, Caribbean, Italian and Indian dishes will impress even the most discriminating palates. The cards are produced in a 5" X 7" format (12.5cm X 18cm). Cards may be ordered from Mandala Publishing or elsewhere at $19.95 US per deck. ISBN 1-886069-96-4. Please visit Mandala Publishing at http://www.mandala.org to see a complete catalogue of books, calendars and other items available.




Removing the Weeds
by Malini d.d.
Posted January 28, 2004
Dear Devotees,
You've probably already heard about the Vaisnava Life Skills and Personal Transformation seminars. Maybe you know someone who's participated in one of these trainings. These seminars have benefited hundreds of devotees around the world.
Please read about their experiences and consider what value you could personally derive from taking the course. Consider which of the different areas of your life, such as relationships, services, spirituality, or career could benefit. Here is what Sacinandana Swami wrote after completing both the Foundational and the Advanced course: "The excellent transformation course of Dhira Govinda Prabhu is concentrating on removing the weeds. Almost 15 years of course development went into this highly experience-oriented seminar. The techniques and points, while consistent with Vaisnava philosophy, are recognized by the professionals, since Dhira Govinda Prabhus has a Ph.D. in social work and many years of experience as state counselor and welfare worker. (Click here for the full article)



Leicester Yatra CD Release
by Gauranga Sundara das
Posted January 25, 2004
Dear Prabhus
Please accept my most humble obeisances. All glories to Srila Prabhupada.
We would like to advertise the new CD of the Leicester Yatra called 'Follow your Heart'. The CD has been highly proclaimed throughout. Please see http://www.gauranga.org/follow_your_heart.htm to have full information about the CD, the accompanying booklet as well as full audio files of the tracks.
Your servant in the service of Srila Prabhupada
Gauranga Sundara das
(President)



Srimad-Bhagavatam narration online
by Pragosh das
Posted January 23, 2004
Hare Krishna! PrabhupadaVani.org is proud to present the narration of Srimad-Bhagavatam for the pleasure of all those who yearn for the magnificent pastimes of the Lord and His devotees. (Click here for the full article)



ISKCON Juhu Celebrates Makar Sankranti and Jagannatha Ratha-yatra
by Parijata d.d.
Posted January 22, 2004

[His Excellency Governor of Uttar Pradesh, Vishnukant Shastri with ISKCON sannyasis and devotees at the Hare Krishna Festival pandal on occasion of Lord Jagannath Rath yatra.]
The day 14th January 2004, marks the auspicious day when Srila Prabhupada installed Sri Sri Radha Rasabihari 26 years ago. On occasion of Makar Sankranti, ISKCON Juhu distributed about 45,000 plates of hot prasadam meals in different parts of Mumbai to underprivileged people. Also thousands of packets of peanut and sugar candy and til laddos were distributed to citizens of Mumbai. (Click here for the full article)



Devotee finds free speech unseemly
by Jai Nitai das
Posted January 20, 2004
Prabhus!
All glories to Srila Prabhupad, who is the saviour of the world
It sometimes disgusts me to see the kind of articles that are published in Chakra. It seems to me that your publication is everything other than an encouragment to anyone seeking the answers. So much bickering, slamming, rhetoric. (Click here for the full article)



Congregational Development Course
by Merudevi d.d.
Posted January 18, 2004
Bhaktivedanta College
Vaishnava Theological Seminary
Congregational Development Course
(10 Sessions)
Monday - Friday
February 2 - 6, 2004
Facilitator: Kripamoya Dasa
Cost: 20 Euro + accommodation*
(Click here for the full article)



Youth Festival of India Tour - North America - 2004
by Manu das
Posted January 17, 2004
This is a short note to let you know of our upcoming Hare Krishna Youth Festival of India summer tour to most of the Ratha-yatras and temples in North America. (Click here for the full article)



New Year gift distribution
by Deenanath dasa
Posted January 15, 2004
Please go to: http://ffl.vrindavan.com/gallery/01-01-04 to see photos of the Food for Life Vrindavan New Year gift distribution.
(Click here for the full article)



Friends of Vrindavan get together
From "The Hindu", New Delhi, December 10, 2003
Submitted by Nirguna dasi
Posted January 14, 2004
VRINDAVAN (U.P.), Dec. 9. To bring together women's voices of Vrindavan so that they can join hands and discuss ways to contribute to the overall plan of restoring Vrindavan to its mythical environmental balance, a meeting was convened by Friends of Vrindavan at Sri Chaitanya Prema Samsthana in Jai Singh Ghera here over the week-end. (Click here for the full article)



Krsna Prasad dasa
by Govinda das and Visnu-smrti dasi
Posted January 13, 2004
I would like to announce that Krsna Prasad dasa (aka Krsna Purusa dasa) from France has passed away on the 28 th of december from terminal blood cancer. I would like to ask all those who knew or served with him in New Mayapura, Paris or elsewhere to please say a prayer for him. He begged for the mercy of all the vaisnavas and asked that they forgive any offenses he may have commited.
thank you,
Govinda dasa and
Visnu Smrti dasi



Sewing for Home Deities
by Maharha devi dasi
Posted January 12, 2004
I've been sewing deity outfits for almost 20 years and can sew for any kind of deities. I have sewn for the Baltimore, Denver, Chicago, New Vrindavan Temples, Prabhupada Village, ( in North Carolina, where I now reside), as well as many home deities. I can also have outfits made in India. (Click here for the full article)



Free Webhost Consulting
by Jagannatha Misra das
Posted January 10, 2004
Dear Devotees worldwide,
We are offering our Consulting services for the Vaishnava community *webhosting* needs, free of charge. (Click here for the full article)



In defence of reality
CORRECTED ARTICLE
by Subhadra-mayi dasi
Posted January 9, 2004
NOTE: Chakra's previously posted version of this article, through an editing error, did not properly convey the very serious allegation intended by the author. Subhadra-mayi prabhu intended to declare that the vows her guru required her to make at initiation contained philosophical discrepancies. The Chakra editors, however, incorrectly took her to mean only that she vowed to abjure philosophical discrepancies, and changed the submitted article accordingly. Our error, in the fourth paragraph, has now been corrected. The Chakra editors unreservedly apologize for our misunderstanding.
(Click here for the full article)
Korg Correction
by Pratyatosa das
Posted January 8, 2004
In reference to the article, "Korg Company wants all the world's karma" by Bhaktavatsala das, the trademark on the word KARMA is not held by Korg. "KARMA® and the KARMA Logo are registered trademarks of Stephen Kay, Karma Lab LLC." (http://www.karma-lab.com/legal.html)
Hope you are well and blissful in KC.
Your servant,
Pratyatosa Dasa



Srila Prabhupada's lectures on cassette tape in the US?
by Braja Bihari das
Posted January 7, 2004
There is a devotee in the US who only has, and can only afford, a cassette player. Now that so many devotees are listening to Srila Prabhupada's lectures on MP3 or CDs or on the Internet, I wondering if any of you could give a gift of some of your old Srila Prabhupada cassettes for a devotee in need of hearing from Srila Prabhupada? (Click here for the full article)



In defence of reality
by Subhadra-mayi dasi
Posted January 5, 2004
I have to agree it would indeed be sad if we were to think of the relationship with the spiritual master as a business: that is, if we were to count how much we have sacrificed and how much money we have given. As I said in my first post, a disciple naturally gives out of gratitude for the guidance he or she receives. The problem is that, more often than not, everything is on the shoulders of the disciple. Very often, the relationship is one-way. (Click here for the full article)



New Year darshan
by Deenanatha das
Posted January 3, 2004
New Year darshan at Sri Sri Krishna Balarama Mandir can be seen at:
http://www.vrindavan.com/darshan/1st-January-2004
Your servant,
Deenanath dasa



New Forums for Devotees
submitted by Saraswata.net
Posted January 3, 2004
All devotees are invited to join the forums at a new web site dedicated to the service of the Vaishnava community. (Click here for the full article)



House in Vrindavan for sale
by Naval Kishor Shastri
Posted January 1, 2004
The house is situated in the peaceful and nice Madhuvan Colony, near the Krishna-Balaram Temple. It is far enough from the main road so that the traffic cannot be heard. From the temple just about 7 minutes by walk away. When you go along the parikrama path you have to turn left at the Krishna Balaram tree and go a few more meters. Many nice devotees are living in this area and also the "Pepsi-building" is just there. (Click here for the full article)



Cow Power
submitted by ISCOWP
Posted January 1, 2004
Electricity generated by cow manure and bullock (ox) power, a school bus driven by bullock power, uses of cow urine for curing diseases,and Panchakavya are some of the many ways the bovine family are useful and integrate within the human society. Their offerings are an argument against their slaughter and for the importance of cow protection. (Click here for the full article)